Last week or so Jimmy and me decided that we wanted to go check out the animals at the pet store. We really want a mini bulldog but the odds of finding one here in Japan is so slim. It's also slim finding a dog under $2,500. The animals here are so expensive...like the cats go for about $1,800 or more. I know what you are all thinking right....America's sitting on a Kitty gold mine. It crossed my mind as well, I had a ton of barn cats when I was little. Anyways...be prepared for the cuteness below. Odds are you will NOT be able to handle how cute the two pictures I took are. Are you ready?......and look!
AWWWWWWWWWWWWWWWW!!!
How adorable are those little things! I was trying to get Jimmy to buy me the puppy but that dog right there was $1,800. Ummm, I'll just go to an animal shelter. Anyways that was a cute little day for us and I figured I'd post about it now because today was kind of boring here and I just uploaded the pictures. Today I ran and you know how yesterday I said it was going to be easier well it wasn't. It was actually pretty bad but I'm going at it again tomorrow and we will see what happens. I'll take more time tomorrow for a more detailed post. I just want to share this overload of cuteness with everyone. Goodnight from Japan!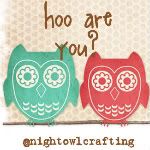 Questions from hoo are you @nightowlcrafting
1. Do you wear glasses or contacts, if so for how long?
I have classes that I'm supposed to wear BUT I don't. :c
2. What was your favorite board game as a kid?
Clue and I loved Risk.
3. What is a word that you use all the time?
I say woot all the time.
4. What is your favorite day of the week?
I don't know...maybe Sundays?
5. Did you graduate high school from the town you grew up in?
Nope, my town is soo little.